All SIM cards in Ghana are required by law to be re-registered with a Ghana Card by the deadline of 30th September 2022. The requirement to register SIM cards is a law passed by the Ghana government.
For your recipients to continue to receive transfers you send them through Taptap Send, they need to check and make sure their SIM cards are registered.
If you send money to a non-registered phone number after September 30th, your transfer will be pending and fail eventually.
What does your recipient need to do?
Dial *400# from their phone in Ghana. This works for *any* mobile network (MTN, Voda, Airtel for Taptap Send)
When they dial *400#, a message will pop up which looks like the image below: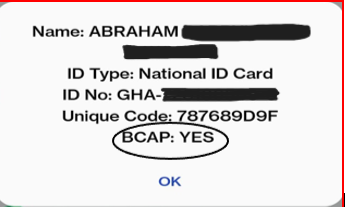 --> If BCAP is YES then the SIM card is registered and there's nothing to worry about: you can send money as smoothly as you're used to!
--> If BCAP does not appear at all or BCAP is NO then the SIM card is not registered
What to do if BCAP is not Yes?
Your recipient needs to register their SIM card by visiting a local MTN/Vodafone/Airtel office with a valid Ghana card.
What Ghana ID card?
At this present time, a Ghana card is the only acceptable form of ID for SIM card registration.
If your recipient does not have a Ghana card, please advise them to get the SIM card registered by a family member who has a Ghana card.
If you have further questions please check this link: https://nca.org.gh/key-concern-areas-frequently-asked-questions-for-sim-registration-2021/
We remain at your disposal if you have any questions, please do not hesitate to contact us!